Vladislav Shalimov and Yuri Silnitskiy are candidates for the Ukrainian National Team
16.08.2013 23:21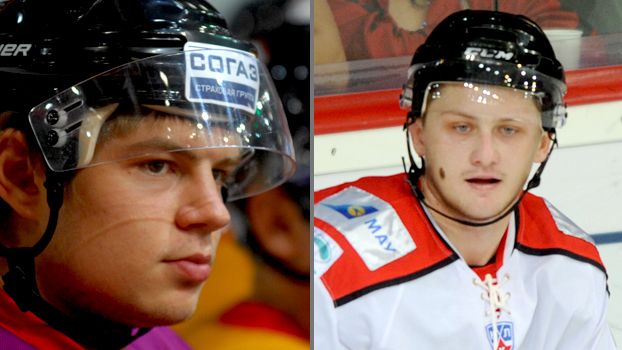 The Hockey Federation of Ukraine has initiated the naturalization process for two more hockey players from the Hockey Club "Donbass". 
Following Yevgeniy Belukhin, the government of Ukraine has received the request to provide Ukrainian citizenship to Yuri Silnitskiy and Vladislav Shalimov. 
Both players are considered as potentially supporting the Ukrainian National Team, who will attempt to get a ticket to the World Hockey Elite this season. HC "Donbass" provide their support to the National Hockey Federation in the naturalization process of the hockey players.
Remember that both players were involved with HC "Donbass" the last season. Twenty-year-old Yuri Silnitskiy was in the roster of the main team and played 16 matches in the Regular season of the KHL Championship and Nineteen-year-old Vladislav Shalimov 3 matches (plus 1 match in the "Nadezhda Cup" Championship). Also both players helped the team "Donbass-2" defend the title of the Ukrainian Champions last season. 
Translated by Anastasia Kurilenko
07.03.2014 10:38
Michael Leighton's save included in the top 10 of the m...
Kontinental Hockey League noted the actions of the "Donbass" goalie in a match against CSKA

635
05.03.2014 17:46
Michael Leighton: "Now I am only interested in the play...
The goalie of HC "Donbass" in an interview with the club's press service told of his debut season in the KHL and the upcomi...

1364
05.03.2014 15:08
Tickets to the playoff games freely available
Free sale of the tickets to the playoff games is open

1243
25.02.2014 09:37
From Prague to Riga together with the Team
Together with the first team of HC "Donbass" an impressive group of fans went by the route Prague-Bratislava-Moscow-Riga

818
18.02.2014 13:58
"Donbass-98": training process continues
After finishing of performances in the regular season of the Open Championship of Russia (Region Center) "Donbass-98" retur...

963
13.02.2014 14:26
"Donbass 2001-2002" went into the Final of the Champion...
February 8 and 9 Team "Donbass 2001-2002" took part in the final stage of the regular Championship of Ukraine, which was he...

617
23.02.2014 17:10
Canada won the gold medals at Olympics
In the final, "Maple Leaves" defeated the Swedish national team

633
04.03.2013 14:08
NHL expects $2.4 billion in revenue this season
The NHL expects to generate 72.7 percent of last year's revenue in 58.5 percent of the season!

1196
News archieve
Leaugue standings
Team Score Team
Donbass 2:0 Dinamo R
Dinamo M 2:0 Lokomotiv
SKA 2:0 CSKA
Lev 2:0 Medveschak
Team Score Team
Metallurg Mg 2:0 Admiral
Barys 2:0 Avtomobilist
Ak Bars 1:1 Sibir
Salavat Yulaev 0:2 Torpedo
№ Team GP G GA PTS
1 Dinamo M 54 171 113 115
2 SKA 54 175 115 105
3 Lev 54 149 107 99
4 Donbass 54 135 99 97
5 Dinamo R 54 141 122 93
6 Medveschak 54 138 126 92
7 CSKA 54 130 118 91
8 Lokomotiv 54 109 103 84
9 Atlant 54 123 120 78
10 Severstal 54 128 135 77
11 Slovan 54 120 160 67
12 Spartak 54 105 147 58
13 Vityaz 54 110 147 58
14 Dinamo Mn 54 102 161 53