Борис Колесников: "Бюджет "Донбасса" значительно больше, чем в прошлом году"
06.09.2013 16:07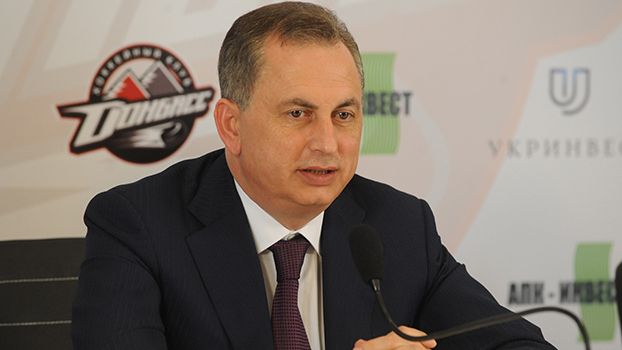 Читайте также
Donetsk "Donbass" has already finished preparation for their second KHL Championship in the home pre-season Tournament. Right after the end of the Donbass Open Cup, Boris Kolesnikov, the president of the Ukrainian Hockey Club, gave an interview to Aleksander Rogulev, the reporter from "P-Sport" Agency.   
"Donbass" will take fifth or sixth position by budget in the West
- At the press-conference in May, you mentioned that closer to the start of the season you would be able to determine the approximate budget of "Donbass" for the season. Can you announce the figure now? 
- I am afraid that the concrete budgetary figure is non-public information. I won't tell it to you now just because later it will wear me out to comment on it to others. I may say that the figure is significantly higher than last year (in the season 2012/2013 the budget was approximately 25 million dollars). Talking about salaries, this information was published by the KHL and it is 21,6 million dollars. 
- Could you at least say which position "Donbass" may occupy in the KHL Club's "budget race"? 
- I think "Donbass" will occupy the fifth or sixth position among the clubs of the Western Conference with regard to budget. Some of your colleagues even put us up to fourth position.  Well, they know better I think. As for me, I find it difficult to count others' money. The budget isn't playing in the League and the KHL has proved it many times. 
- Not so many new players joined the team during the summer compared with other KHL Clubs. Are you satisfied with the selection? 
- Questions about the roster you had better ask to the head coach of the team. Andrey Nazarov is responsible for it and he decides if it's good or not. But not so long ago I had a conversation with Ruslan Fedotenko and he said that the mood inside the team is perfect. And if it's true, we should be satisfied with our players' composition. 
- Is it important for you that the Cup returned to Donetsk? 
- It is important for me that the battle for the Trophy was right up until the last game. It says that the tournament was fair and task oriented. In the game against "Admiral" we won with a minimum score. On the other side we lost the game against "Severstal". Of course we should be worried with such results, but the "Donbass Cup" is only a pre-season tournament and I am glad that the guys were fighting hard for the victory and showed their character during all the games. 
Ukraine should be in the Elite in two years time 
- Not so long ago Andrey Nazarov combined two positions and headed the National Team of Ukraine. Why did you choose to overlap the positions? 
- Nazarov has a very clear task - to bring the National Team of Ukraine into the Elite Division. We have a group of hockey players in Donetsk with Russian passports, who will receive Ukrainian citizenship for sure in a little while. So it turns out that in total there will be 25 hockey players who will play for the National team and 15 of them are playing in the "Donbass" and "Molodaya Gvardiya" rosters. This is the reason why we appointed Nazarov to this position. 
- Is it a real task to get into the Elite?
- Unfortunately, in the Ukrainian National team we have a real big age gap between players. There are some players who are 30 years old and some very young players. Fifteen years out of hockey in the country speaks for itself. It is very difficult to combine the National Team in such conditions. That is why several of our hockey players have a desire to get Ukrainian citizenship and the Hockey Federation is working on this question. 
- Nazarov said that you have an idea to naturalize Aleksander Eremenko and Michail Anisin...
- We would like to naturalize Evgeniy Kuznetsov with Anisin, but I don't think that they would like that (laughing). But to be serious, in our National team there are three good groups which consist of five players. That is why our task is to involve young and prospective players who would play well in the fourth group and then just to add and become leaders. Currently, we have collected all the Ukrainian players in the team who can play well, except Aleksey Ponikarovskiy. 
- Were you surprised that Aleksey took Russian Citizenship? 
- Yes, I was. Of course Aleksey knows better as to why he needs a Russian passport. But I think there is no sense in it – neither for him nor SKA. He is not 20 or 15 years old, to strive for the Russian National Team.  SKA has such a roster that it's no difference for them if Ponikarovskiy naturalizes or not. They could play in the KHL with two rosters. Anyway, it's good that the League has such a strong team. We have an example to follow. 
Could not come to a settlement with Ponikarovskiy 
- Will Ponikarovskiy continue to play for the National Team?
- I can't answer this question, but he would not be able to play for Russia for a miniumum of four years, this is for sure. But I don't judge Ponikarovkiy at all. When we called him to play for "Donbass" during the lockout, he agreed straight away. When we called him to play for Ukraine he also agreed.  
- Did you ever have a chance to fight for Ponikarovkiy with SKA? 
- We had a conversation with Ponikarovskiy, but we could not come to a settlement. He is a very good player and he is a nice person. He helped us a lot during the lockout last season. We had too many forwards and not many defenders.  In any case I wish him good luck and success, but not in the games against our team (laughing). 
- Anton Babchuk is also back in the KHL, but not in the "Donbass" roster, this time in the "Salavat" roster. 
- As for Babchuk, we did not even have a conversation with him; 1 can't say anything about him. But the fact that these boys were in demand by the top KHL Clubs, says that these hockey players are professionals. 
- We have heard that you offered contracts to Anisin and Zherdev. Is it true? 
- I want you to understand that we are talking about forwards. At the time that they entered the market, we did not need forwards at all. Of course Nikolay is a great player. But we were sure that he would go back to "Atlant", that is why when Zherdev became free, our forwards had been already arranged. Look, in our roster we have a Stanley Cup holder, active World champion and a big group of professional forwards. No space for Zherdev. 
"Traktor" has a school as Football Club "Barcelona" has 
- Is there any news concerning the "Kalmius Arena" construction? 
- I hope that we will be on time with the construction. The reason why I am not satisfied with construction is bad ground and not because we have bad construction workers.  The problem is that the "Kalmius River" used to be wider and we faced an unexpected problem. Nobody knew about it until we had a complete geology consultation. But we had similar problems during the "Donbass-Arena" construction and this problem was resolved them. This project is smaller than "Donbass Arena" - that is why we should not be late with the construction. 
- Will these problems be a reason that the Arena won't be ready for the Gagarin Cup 2015? 
- Well, the "Kalmius Arena" should be ready before the Basketball European Championship. It was our desire, to move and play Hockey there before then. We wanted to play in the arena before the Great Tournament.  When we opened stadiums in Lviv and Kiev for the Euro 2012, we let people enter the stadium even when there was a lot of unfinished work. But if we did not let people enter the stadiums than we would not see unfinished work. That is why we want to open the "Kalmius Arena" 7-8 months before the European Championship starts. And during this time check all unfinished work. 
- There is the construction of the Arena in Kiev for the Basketball Euro-2015. Do you have any negotiations concerning the creation of a KHL team on the base of this Arena? 
- Of course it would be nice if Kiev had a KHL level hockey team. Than we would have real battles here - similar in football between "Shakter" and "Dynamo" Kiev. But I am not sure that "Sokol" seriously want to do something. I could only say that in the capital of Ukraine there are many rich people, who would be able to develop a hockey team. It is even possible to form a joint stock company and create a good, top Hockey Club. "Donbass" is very interesting in this question, more than anyone else. 
- There is another problem, that in your country, if you do not count Donetsk, there are not many hockey Arenas with artificial ice. 
- Yes, right now Kiev is a priority; we would like to raise the hockey infrastructure there and build Arenas. There is another problem in Ukraine - no clubs that would be a part of a government budget balance – neither football nor hockey club. And we have to spend a lot of money rather than let's say Chelyabinsk "Traktor", who have a perfect school with great traditions. If we look at the total hockey stars graduated from the Chelyabinsk school then we can compare it with "Barcelona" Football club. 
- How long will it take for "Donbass" to get such kind of school? 
- We need seven or eight years to develop a real hockey infrastructure and real hockey academy. And the Ukrainian National Team should be playing in Elite Division by this time, so the young people would have an interest in hockey. I think I we are on the right path. 
Translated by Anastasia Kurilenko
Топ за неделю Топ за месяц Топ XSPORT.ua
News archieve
Leaugue standings
Team Score Team
Donbass 4:1 Kremenchuk
Team Score Team
Donbass 3:0 Динамо Харьков
Team Score Team
Belyi Bars 0:3 Kremenchuk
Leaugue standings
№ Team GP G GA PTS
1 Donbass 40 266 67 116
2 Belyi Bars 40 199 105 84
3 Kremenchuk 40 164 120 75
4 Динамо Харьков 40 155 168 51
5 Галицкие Львы 40 83 211 25
6 Волки 40 98 294 9